Investing in personal and professional development of our people
---
For us it is important to continually invest in our people's development at every step in their career. Throughout the year we worked to improve our talent management framework, devised people strategy for each brand and function and launched Chalhoub university a digital learning platform.
Repositioning our HR Business Partner role
---
In 2020, we have repositioned the role of the Chalhoub HR Business Partner role from an administrative focus to a strategic business partner, an employee advocate, a change agent and the custodian of our values and culture.  We also rebranded the role, as "People Partners" to          better represent the focus they have on our people. Our People Partners are now accountable for devising and implementing targeted People Strategies for each of their brands and functions.
During 2020 we challenged ourselves to consider what it meant to have a "fit for future" talent management framework. Core focus in 2020 was to work on the roof and foundations of our "house model". We did this through ensuring we were clear around the culture we want to instill across the Group, and the future structure we need through the creation of clear and transparent job families, supported by a transparent reward philosophy. These have provided us with a solid grounding to now build our revised talent attraction, performance management, talent development and engagement strategies upon, all supported by a dedicated team of HR data analysts to support more data driven decision making.
We continued our push for online employee training this year, considering the process's efficiency and the pandemic. The training hours were low as priorities were redefined for 2020 when the pandemic struck.
Early in the year, the pandemic significantly disrupted our Group, our people and our planned HR annual priorities. Our People Team were at the forefront of many of the initiatives we launched during his time. As a Group we quickly adopted effective flexible working practices, offered part time and sabbatical opportunities to employees who wished to change their working hours, rapidly accelerated eLearning, and invested heavily in internal and external employee wellbeing campaigns, training and counselling services.  
The Covid crisis forced the Group to accelerate the adoption of new ways of working, new ways of leading, and required enhanced focus on effective communication (know more). The silver lining of the crisis has been an appreciation across the Group for greater collaboration and innovation.  
In 2020 we started raising awareness of the servant leadership philosophy, story telling and educating around a new style of leadership with a focus on the growth, development and wellbeing of our people, moving from  the traditional command and control style of leadership  to one where "boss" becomes "coach". This philosophy was supported through the creation of a new set of behavioural and leadership competencies, "Our Behavoiurs for Success", mapped to our core values and now the basis of all hiring, assessment, performance and development approaches. 
Additionally, the crisis also necessitated an increased focus on transparent, honest and regular group wide communications, live webcasts and video messages.  
For the first time ever, in 2020 all our People Partners, General Managers, Vice Presidents were tasked with devising a people strategy for their brand or function. Our objective was to devise a strategy with a forward-focused direction that changed the approach of our HR Business Partners from reactive to proactive, with a clear vision of what success would look like by the end of the year. All of the strategies were presented to our CEO and Presidents. This is great testament to the fact that our focus has shifted towards our people agenda promoted by servant leadership.
During 2020 the creation of our job family framework resulted in all roles across the Group being reviewed. We removed duplicate roles from our structure and created up to date digital role profiles, with behaviours and technical competencies mapped to each role. This allowed us to then hire, assess and performance manage with more transparency and consistency. All role titles were also reviewed to ensure that our role designations are aligned to market norms and attract the top talent to the Group.
Its is against these clearly defined competencies which we then built our performance management framework around. During 2020 we commenced the overhaul of our performance management framework, working on the platform (SAP Success Factors), the process but as importantly the mindset. Core to this review was to support culture change, ensuring performance decisions are made objectively, free from bias and consistently. We have now moved to a holist, future focused view of performance where we focus both on "what" employees deliver, but also "how" they do so. Under this framework we also rely heavily on ensuring we have servant leaders, creating a feedback culture (supported by year round 360 feedback),  with role clarity,  and adopting a coaching mindset. 
During 2020 we also conducted "Potential Reviews" of all back office employees and 80% of our frontline population, allowing us to better understand who our high potentials are their readiness for progression in and across the Group.
In 2020, Group Learning and Development team deployed Subscription Model of the services, where the employee access to learning was democratized and obstacles on the way were eliminated.
Previously faced challenges such as prolonged performance review cycles, training needs analysis and budget limitations were minimized, serving main objective of empowering learning and enabling growth of every employee. 
Furthermore, the Group HR deployed the Chalhoub University that would serve as a medium through which employees access the learning opportunities. Chalhoub University is a digital learning experience platform  that offers our people a complete 360 learning experience. The university is structured around four academies Retail, Leadership, Digital and Enabling Arts. 
The platform empowers employees through providing bespoke engaging, inspiring, collaborative immersive and experimental curriculums to suit everyone's specific learning requirements and styles.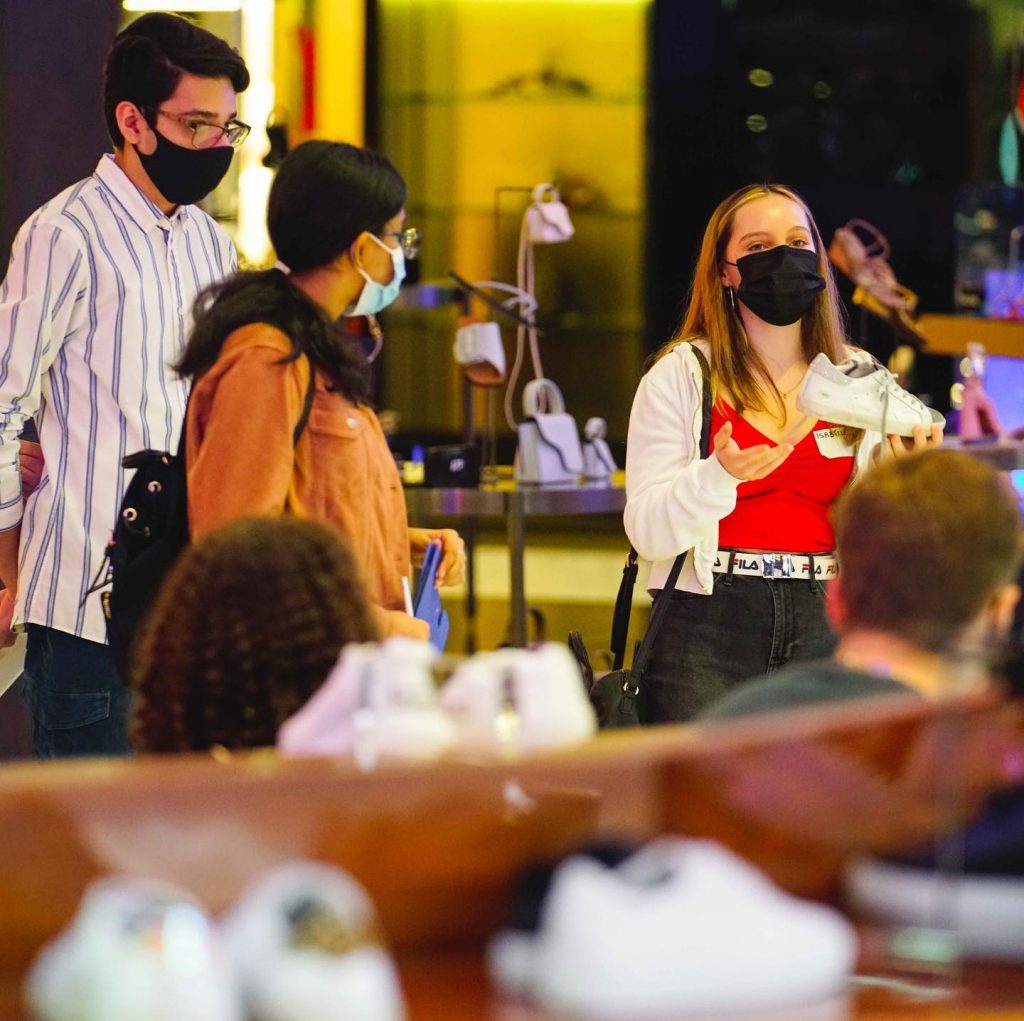 Through both the subscription model and Chalhoub university's support, Learning and Development team was able to accompany the business through the challenges during the toughest days of the pandemic. The learning activities mirrored the business demands of each phase of the pandemic, from leading and working remotely at the onset of the pandemic to safe return to work and stores at the end of the lock down. We have leveraged on the learning not only as a main tool for competence building, but also as a strong employee engagement channel to deal with anxiety, stress and fear of uncertainty in the challenging days.